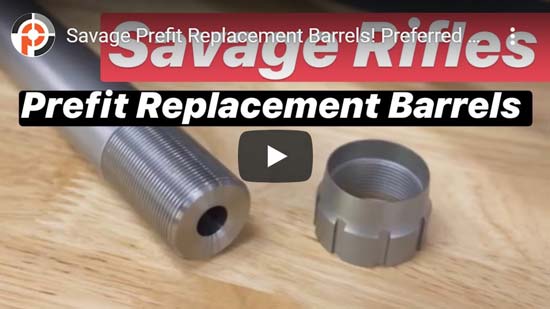 Savage Prefit Replacement Barrels
Everything You Need to Know About The
Savage Prefit Gun Barrels
There are two versions of the Savage prefit replacement barrels, a Small shank and a Magnum shank. You can have a Magnum cartridge with a Small shank. To discover which one yours is you need to measure your barrel nut length wise.
Small shank is 7/8
Large Shank 5/8 so the larger barrel has the shorter barrel nut.
The thread sizes of the Savage pre-fit barrel are as follows:
Small shank 1.055"x20p
Large shank 1.120"X20P
Savage prefit barrels are a variable shoulder design, meaning they use a barrel nut and require head-space gauges to install.
Our Savage barrel nuts use the same interface as a standard Savage nut. We also offer matching finishes to our barrel and barrel nuts when ordering through Preferred Barrel Blanks.
Order Savage Prefit Barrel
Things to Note When Replacing a Savage Prefit Barrel
If your original barrel came with a light weight barrel and you're replacing it with a heavier profile barrel you need to make sure the in-letting on your stock will allow for that; or some in-letting may be necessary.
When selecting a cartridge. Make sure the action length and bolt face is compatible with whatever action length and bolt face you have.